It is a cooking class in which corporate groups of all sizes can participate. In OzHarvest, we received food donations that were supposed to be disposed of by restaurants, supermarkets, and other wholesalers, and we used them to cook meals for homeless and disadvantaged people/communities. Under the direction of OzHarvest chefs, participating teams prepared restaurant-class dishes from collected foods and distributed them directly to disadvantaged communities. They learned practical cooking techniques while cooking delicious meals such as handmade pasta and salad, and they also realized that these techniques were useful in reality, and that the disadvantaged were able to enjoy nutritious meals with love. We also sampled delicious dishes we made ourselves.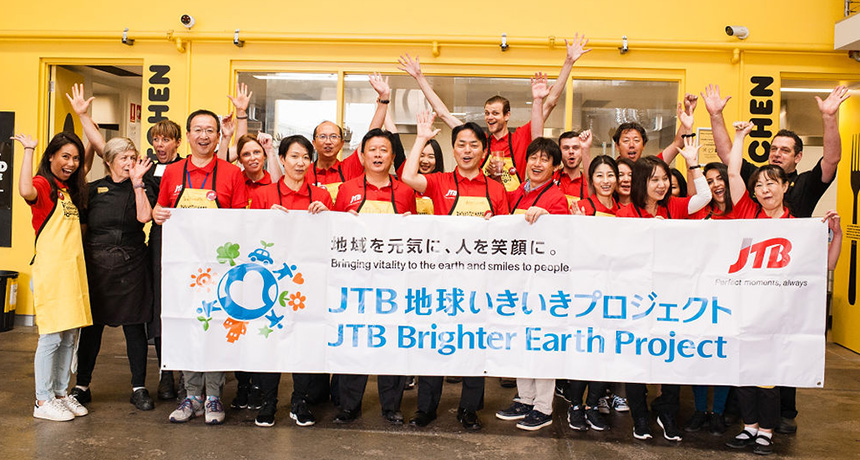 01 Voice of the supervisor
This activity was organised by the JTB Australia team in partnership with the charity OzHarvest. For this activity, JTB Australia employees worked with OzHarvest chefs and volunteers to prepare restaurant quality meals using rescued food that is donated to OzHarvest by restaurants, hotels, supermarkets and wholesalers. OzHarvest operates nationally, and rescues over 180 tonnes of food each week from over 3,500 food donors. Food waste is a worldwide issue, and it costs the Australian economy approximately $20 billion every year. With the assistance of the JTB Australia employees and the qualified OzHarvest chefs, the team produced 210 meals to be donated to a local charity to assist those in need in the wider community. What makes this activity special, is that not only did we produce so many meals for a local charity 'Rough Edges', that operates a cafe in Sydney to provide hospitality to homeless individuals, but we did so using ingredients that would otherwise have been thrown away. By working together, the team made a real difference to the lives of some of the disadvantaged people in our community.
02 Voice of the cooperating organization
JTB joined us for the Cooking for a Cause program at OzHarvest HQ. We take some rescued food and turn it into something really delicious and nutritious to those guys that are doing it tough in Sydney. A lot of the food that we get is destined for landfill. The meals that we make are from all different cusines, and what we do is give skills to these guys in the kitchen. Hopefully at the end of it they can go away and actually put that into practice in the kitchen as well, so they're actually getting something from this program other than just cooking food up and sending it out, so they're learning skills as well.
03 Voice of the participants
The Cooking for a Cause event with OzHarvest as part of the Brighter Earth Project was a great CSR project for the JTB Australia staff. Together with the OzHarvest chefs, the teams learned a lot about reducing food waste through the way we prepare food. The chefs were very patient and friendly, and the meals that we were preparing were unique and delicious. OzHarvest have grown to a national organisation, and rescue over 180 tonnes of food each week from supporting organisations, that would normally go to waste. Together, we managed to create 210 meals from the donated food that would go to local charities and help those in need. This exciting event was also a fun day in the kitchen, and was a great team building exercise for the JTB staff. We learned some new cooking skills, as well as some new recipes that we could take home for ourselves. Having special guests from APHQ join the event was helpful to show excellent work that the volunteers at OzHarvest are doing. I think the event was a great success, and I hope JTB Australia can support OzHarvest again in the future.
It was amazing to see the work that the team at OzHarvest are doing. Most of the team are volunteers that donate their time to collect the food from the cooperating organisations and help clean up the kitchens after the chefs have prepared the meals. I was amazed to hear that OzHarvest save over 20 tonnes of food a week that would otherwise have been thrown away, and it's great that this food can be used to create restaurant quality meals for those less fortunate in our community.
It was a lot of fun, and I got a lot of satisfaction from participating in the event. It makes me feel very happy when I imagine the smile on the face of those people who these meals went to.
I didn't know what to expect when getting involved with the OzHarvest cooking project - but it was a really educational and fun experience! It was great to see all the work that had been put in since 2004. An estimated US$ 990 billion worth of food is wasted every year around the world, and OzHarvest is on a mission to save some of it, and provide food for those who have none. We had a professional chef guiding us in 3 teams making various gourmet dishes and the group of 20 made 210 meals for needy people in Sydney. It was great learning new cooking skills and spending time together bonding as a group.