The JTB Group believes that sound and sustainable management and oversight practices are a prerequisite to meeting the concerns and expectations of our stakeholders and generating enhanced corporate value.
Governance
In alignment with its efforts to achieve sustainable growth and enhanced corporate value, the JTB Group has established "Basic Policy on Corporate Governance" and is committed to the highest standards of corporate governance through rigorous oversight and monitoring and organization-wide compliance with the principles set forth in the JTB Group Code of Conduct.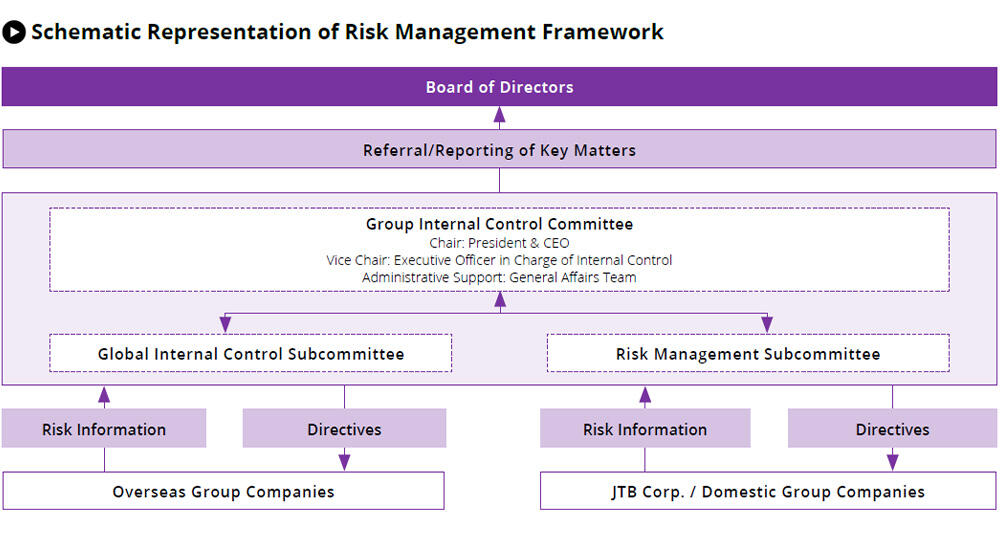 Internal Control Systems

The JTB Group's 'Internal Controls Policy' provides a framework for ensuring the integrity, propriety and reliability of our operations and reporting processes.
Building Trust with Stakeholders
Compliance

The JTB Group Code of Conduct is the 'moral compass' that guides the conduct of JTB Group colleagues by encouraging adherence to the highest standards of integrity in all of our professional endeavors.
In practicing the JTB Way, we pledge to act with integrity at all times and to build trust with our stakeholders.
Specifically, JTB Group colleagues adhere to the following principles:

We commit to abide by all applicable laws and social norms, and to conduct our business with integrity and transparency.
We step into the shoes of our customers in order to ensure that we are serving them with integrity.
Through integrity and openness, we foster trust and teamwork with our business partners.
We compete fairly with our competitors.
We meet the expectations of our stakeholders (customers, shareholders, employees, business partners, society) through timely, accurate, and fair disclosure and the delivery of enhanced value.
As an upstanding corporate citizen, we support sustainable community development and environmental conservation efforts.
As conscientious members of the workforce, we take responsibility for our actions and strive to make a positive difference in the community.
Our corporate culture embraces diversity, respects diverse values and welcomes innovation.

Risk Management

As part of its risk management program, the JTB Group identifies, analyzes, evaluates, and prioritizes risks in order to formulate appropriate preventive and responsive measures. We hone our risk management capabilities on an ongoing basis through feedback loops.

Our Approach to Risk Management
Under the coordination of our Internal Controls Committee, the JTB Group uses a comprehensive set of policies, protocols and procedures to identify and manage risks across the Group.

Emergency Management Systems
When a crisis occurs, JTB appoints an Incident Response Task Force to coordinate a timely, effective response and minimize impact to our business and our stakeholders.

Information Security

Under the direction of our chief information security officer (CISO), the JTB Group has a comprehensive array of safeguards in place to ensure information security in accordance with our Information Security Policy. We regularly review and update our Information Security Policy to keep pace with changes in technology and the operating environment.

Protection of Personal Information
In accordance with Japan's privacy laws, the JTB Group's Information Security Policy, and Privacy Guidelines, we protect the personal information of our customers by:

Protection of personal information

Compliance with the European Union's General Data Protection Regulations (GDPR)
We maintain GDPR-compliant systems and protocols. Our Data Protection Manager is responsible for the following activity:

Monitoring GDPR Compliance
Data protection impact assessments and related monitoring activity
Communication with European regulatory authorities
GDPR response prioritization and directives regarding systems and workflows
Directives for recordkeeping related to the handling and monitoring of personal information.

IT security
At the JTB Group, we view information security as an integral component of our responsibility to our stakeholders and to society. We maintain policies, protocols and procedures designed to safeguard the confidentiality, integrity, and availability of all information assets handled by the JTB Group.

Corporate Transparency

The JTB Group is deeply committed to human dignity, exemplary corporate conduct and sustainability through open stakeholder dialogue, transparency and robust sustainability reporting.
Sustainability Initiatives

Material Impact

・Enriching the Human Experience

・Nurturing our Surroundings

・Engaged Partnering