Creating Ways to Bring All People Together
In our quest to deliver 'Perfect moments, always', the JTB Group constantly seeks out new ways to make travel more accessible to all travelers - regardless of age, gender, nationality or disability.
Key Initiatives

Universal Tourism ('Tourism for All')
The JTB Group believes that travel and tourism are for everyone to enjoy. We work to make this a reality.

Specific Initiatives:

・Use of specialized communication tools to support travelers with impaired hearing
・Travel itineraries that accommodate physical limitations (accessible seating, frequent and longer restroom breaks, reduced walking, etc.)
・Personal care attendants for customers requiring special assistance during travel
・Working with national and local governments as well as business partners to remove physical and non-physical barriers to universal tourism and to raise awareness through education

Meetings & Events
We help businesses ensure that their meetings and events support their communication goals as effectively as possible.
Under a partnering agreement with SaaSpresto, JTB puts the power of the Cvent event marketing platform at the fingertips of our business clients to enhance the effectiveness of events (in-person, online and hybrid) through superior management, data collection and reporting functionality.

Health Tourism
Health tourism helps travelers restore mental and physical wellbeing by temporarily stepping away from everyday stressors.
By dedicating themselves to the three building blocks of health - rest, nutrition and exercise - and enjoying contact with nature, culture and local residents, travelers have the opportunity to plant the seeds for a healthier, more balanced lifestyle.

Low-Floor Buses

The new, low-floor HiBus fleet operated by the JTB Group in Hawaii offer JTB tour participants※ unlimited riding privileges throughout their stay in Paradise. With convenient stops at the most popular tourist attractions, HiBus delivers convenience, comfort and accessibility to Hawaii visitors traveling with strollers or wheelchairs.※※HiBus service is currently suspended. Service resumption dates, routes and schedules TBD.
※Not included with all tour products

Accessible Brochures

Many of the JTB Group's brochures utilize an accessible format and fonts along with universal color design principles for enhanced readability.

Foreign Language Support
Bilingual tour guides and other multilingual support for international travelers.

Guide Dogs for the Visually Impaired
Donations collected through Labrador Fundraising Boxes at JTB offices across Japan are used by the Japan Guide Dog Association to train guide dogs for individuals with impaired vision.
Safety and Security
The JTB Group recognizes its responsibility to provide safe and secure travel. To ensure travel safety, we have developed the following guiding principles as well as specific implementation guidelines.
Travel safety is our top priority.
All JTB personnel are required to comply with our Travel Safety Management Policies and Travel Safety Management Guidelines.
We continually review and refine our Travel Safety Management Guidelines to ensure effectiveness.
Key Initiatives

Tour Implementation Standards
Our tour implementation standards help ensure that the customer's safety is given maximum priority in all of our domestic and overseas tour operations. Our Travel Safety Committee continuously analyzes the COVID-19 situation and other risk factors in order to determine travel advisability.

Selection of Business Partners
We use rigorous proprietary standards when selecting business partners to provide lodging, transportation and other travel services to our customers.

Crisis Management
Well-defined reporting lines and triage criteria help us respond effectively to any incidents that arise during travel. Whenever justified by the severity level of the incident, the JTB Group uses in-house task forces to coordinate our organization's response.

WTTC Safe Travels Stamp

As part of our efforts to prevent the spread of COVID-19 and deliver peace of mind to our customers, JTB has acquired the globally-recognized Safe Travels Stamp certification issued by the World Travel and Tourism Council (WTTC).
The Safe Travels Stamp represents a body of guidelines formulated by global tourism operators and institutions to help prevent outbreaks of COVID-19 and other infectious diseases. The Safe Travels Stamp is only given to tourism operators who comply with the safety protocols and infection control best practices established by WTTC (Safe Travel Protocols).
Creating Visitor Streams by 'Connecting Supply and Demand'
Across Japan and around the world, many communities are eager to harness the power of tourism to overcome a wide variety of challenges they face. At the JTB Group, we support these efforts through a unique approach we call 'Connecting Supply and Demand'.
As the name suggests, 'Connecting Supply and Demand' involves using JTB Group's extensive domestic and international market reach to connect demand (departure points) with supply (arrival points). Through tailored marketing and promotional activity, we help communities identify and cultivate 'signature content' and use tourism and merchandising as vehicles to promote visitor traffic and local economic development.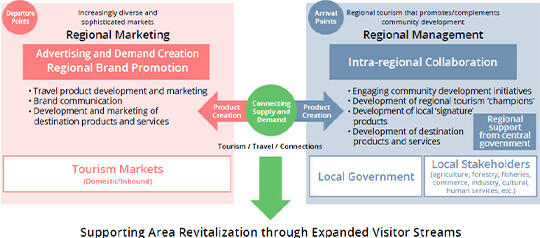 Key Initiatives

Building Sustainable Communities
The domestic presence of the JTB Group spans all 47 prefectures of Japan.
Each JTB office is a key player in its respective market. Working collaboratively with a wide array of community stakeholders, JTB helps develop unique local tourism content in order to enhance destination attractiveness and contribute to sustainable regional development.

JTB BÓKUN

In February 2021, JTB launched an alliance with Tripadvisor's Bókun Business Division to respond to the growing demand for 'experiential products' in the domestic and international Tours & Activities markets.
This collaborative initiative is powering the roll-out of dynamic digital solutions to meet the needs of tour and activity operators, DMOs and local governments.

Good Fellows JTB Corp.

Since its formation in April 2020, this joint venture between JTB and GOODFELLOWS has been powering digital transformation (DX) initiatives across Japan's tourism sector and helping tourism facilities and destinations enhance their appeal and competitiveness.
Good Fellows JTB connects a broad range of travel content providers and related retailers across Japan through automated, contactless e-ticketing platforms as well as tailored product planning, consulting and marketing services to support the development and roll-out of area-wide 'universal value' passes.