Creating a Sustainable Organization through an Appreciation of Other Points of View
JTB Diversity Week 2021… Online!
Since 2018, JTB Diversity Week has served as a valuable in-house forum for promoting an open dialogue about workplace diversity and inclusion within the JTB Group. The event is open to all Japan-based colleagues and is gradually being rolled out to a growing percentage of our overseas workforce.
In 2021, JTB Diversity Week focused on the power of digital to bring JTB colleagues closer to their employer, their work and their fellow colleagues. Held entirely online, JTB Diversity Week 2021 offered a wide menu of sessions including presentations by senior management, a 'Disabilities Mixer' to discuss disability-related issues, a 'Caregivers Workshop' offering practical tips for employees in caregiving roles, a 'Nadeshiko Forum' panel discussion about workplace challenges faced by female colleagues, and an 'SDGs Workshop' providing a glimpse into current and future SDGs initiatives across the JTB Group.
【Sustainability Benefits】
Promoting Workplace Diversity through an Open and Accessible Forum
JTB Diversity Week is an open internal communication event that reflects our management commitment to working together to build a brighter future for our organization and all of our colleagues.
Through talks by management and experts as well as interactive colleague discussion, JTB Diversity Week provides opportunities for our workforce to acquire and share knowledge and work together to create a more diverse, inclusive and equitable organizational culture.
Each day of Diversity Week features a different theme such as Disability Day, Career Day, and SDGs Day. Many sessions are offered in an interactive format conducive to colleague participation and collaboration.
Diversity Week also tackles relevant topics such as caregiving in order to provide our employees with an opportunity to better prepare for and navigate life's events and challenges.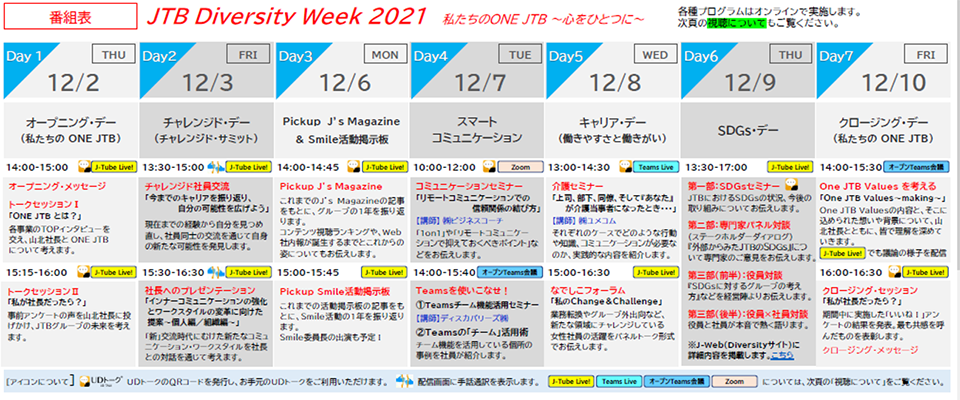 Energizing Our Organization through Diversity
During JTB Diversity Week, we try to focus on the topics of greatest interest to our people. Our learning archives make it possible for colleagues to easily view any sessions they miss, encouraging everyone to think more deeply about ways to create a more welcoming and rewarding workplace environment.
Although logistical hurdles still limit participation primarily to our domestic workforce, we are exploring ways to make JTB Diversity Week more accessible to all JTB Group colleagues worldwide.