JTB and FonesLife to Partner in Providing Disease Risk
Prediction Tests to Medical Tourists in Japan
News Release JTB Management・Finance
JTB Public Relations
FonesLife Corporation
Tokyo, Japan, October 11, 2023 - JTB and FonesLife announced today that they will be offering FonesVisuas1 disease risk prediction tests to overseas visitors to Japan. The companies will support the healthcare of foreign visitors seeking to undergo tests in Japan by providing visualizations of their current physical condition and risk of future disease, aiming to further develop inbound medical tourism in Japan.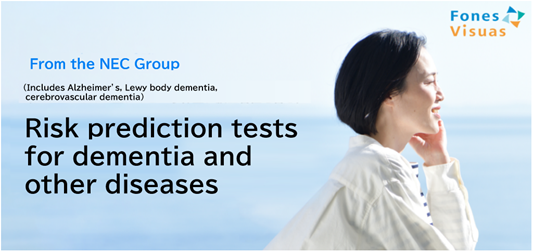 Background
The New Growth Strategy approved by Japan's Cabinet in December 2009 included measures designed to bolster inbound medical tourism in Japan, and a range of initiatives have since been implemented, some by government ministries and agencies. Japan also continues to take steps to welcome foreign visitors for this purpose, for example in 2011 by introducing medical visas allowing a single stay of up to six months and unlimited entries within a three-year period. Japan is renowned for its advanced level of testing technology and courteous service, both within medical facilities and across society in general; in recent years, this has spurred demand for travel to Japan not just for the treatment of illnesses but also for non-treatment services such as health checkups. Against this backdrop, JTB had been studying the feasibility of providing tests for overseas visitors to Japan, and in conjunction with FonesLife, the company has now made arrangements to rollout FonesVisuas tests.
About FonesVisuas tests
Using the first technology of its type in Japan2 to measure the levels of around 7,000 proteins from a small amount of blood, FonesVisuas tests enable people to visualize their current body condition and future disease risks. The tests predict the risk of stroke, myocardial infarction, and chronic renal failure within four years, lung cancer within five years, and dementia within 20 years or five years.3 Patients are not required to observe any dietary restrictions beforehand, and the tests only require a small sample of blood. This alleviates the burden on patients relative to other commonly available tests while also making it possible to provide visualizations of markers of current body condition, including glucose tolerance4 and cardiopulmonary endurance (VO2 max)5 as well as the effects of alcohol and tobacco, liver fat, visceral fat, and resting metabolic rate.
Partnership structure
FonesVisuas will be incorporated into the health checkup program provided by the Japan Medical & Health Tourism Center (JMHC)--JTB's medical coordination arm--and provided as part of a comprehensive test suite.6 Results will also be made available in multiple languages to ensure that customers have the information and support they need to make the behavioral changes required to underpin their future wellbeing.
Partnership scheme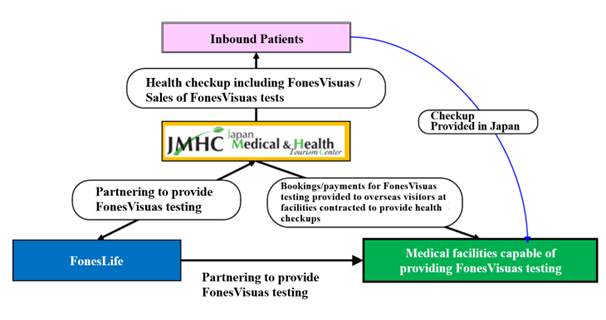 Outlook
The two companies will initially be working to make FonesVisuas testing available to overseas visitors at a wider range of hospitals and medical facilities, and FonesLife will continue to pursue research and development with the aim of offering risk predictions in respect of over 50 diseases in the future. JTB will continue to provide overseas visitors the support they need for a safe and secure stay in Japan through various testing and medical technologies, while also offering them opportunities to tour Japan and experience all the country has to offer as part of their overall stay. The companies also hope to work with local governments to ensure their efforts help boost local economies.
About FonesLife
FonesLife is one of the NEC Group's healthcare business operators. Utilizing US-based company SomaLogic's blood protein assay technology and the NEC Group's big data analysis and ICT technologies, the company predicts the future risk of diseases such as dementia, and proposes lifestyle improvements tailored to the individual. Through these efforts, it is striving to create a future in which everyone is free from illness and able to live their own life their own way.
About Japan Medical & Health Tourism Center (JMHC)

JMHC is a specialized unit established by JTB in April 2010 to provide medical care coordination services. Drawing on the unique perspective and international network that only a global travel agency can offer, it provides comprehensive services to support patients throughout their program, from help with admission to medical facilities to the administration of medical treatments, along with medical stay visa agency services, as it strives to internationalize Japan's healthcare offerings.
1 FonesVisuas is a registered trademark of FonesLife Corporation.
2 FonesVisuas is the first and only test in Japan to use SomaLogic's assay technology.
3 When diagnosed, the risk of developing dementia within five years is communicated only to people aged 65 and over.
4 Glucose tolerance: commonly measured via an oral glucose tolerance test. Requires long periods of restraint, dietary restriction, and multiple blood draws.
5 Cardiopulmonary endurance (VO2 max): Generally, the body is subjected to exercise stress using a bicycle ergometer or treadmill. Lung exhalations during the exercise are collected and analyzed to determine the maximum amount of oxygen the individual can utilize per minute.
6 FonesVisuas tests will be provided by physicians at medical facilities.
For information on FonesVisuas tests, contact
FonesLife Marketing at
contact@foneslife.com
For information on FonesVisuas sales, contact
JTB Japan Medical & Health Tourism Center (JMHC) at
jmhc_info@j-medical-healthcare.com
Media inquiries
JTB Public Relations, Tel: +81 (0)3-5796-5833 (Tokyo) or +81 (0)6-6260-5108 (Osaka)