The Future of JTB Retail Shops
MY TRAVEL Remote Box, Opening Tuesday, May 7
-Remote Customer Service to Reduce Waiting Times-

 JTB Corporation (Headquarters: Shinagawa, Tokyo; President: Hiroyuki Takahashi) has opened up a new space for remote customer service called MY TRAVEL Remote Box, in our Travel Gate Shinjuku shop as of Tuesday, May 7, 2019. With reducing in-store waiting times as its goal, this "future figure of the shop" fuses digital technology with the human touch to provide the kind of value found only at JTB.

 JTB began remote customer services in 2018 as a solution to a variety of different in-store issues. The first remote service had been implemented in Tohoku area, called JTB MY TRAVEL Living Aeon Mall Iwaki Onahama, opened in June 2018 to provide remote services keeping the quality of customer services with more efficiency. At of the end of April 2019, more than 1,000 customers have used these services.

 Now, as the second implementation, JTB launch MY TRAVEL Remote Box Shinjuku in Travel Gate Shinjuku, where the new services will be provided to the customers with less wait times. (Continuing to this implementation, the same service will be started at Travel Gate Yokohama within May) Other than these Remote Box services, JTB has also started a counter-style remote customer service at multiple locations in the Tokyo metropolitan area, which is a little different from the box-type. All these implementations are aimed to reduce the stress from the waiting-time, especially at the peak times.

■ Overview

- Name: MY TRAVEL Remote Box Shinjuku
- Location: 1st Floor, Travel Gate Shinjuku
- Open: Tuesday, May 7, 2019
- Hours: Weekday afternoons (varies depending on congestion) *Start time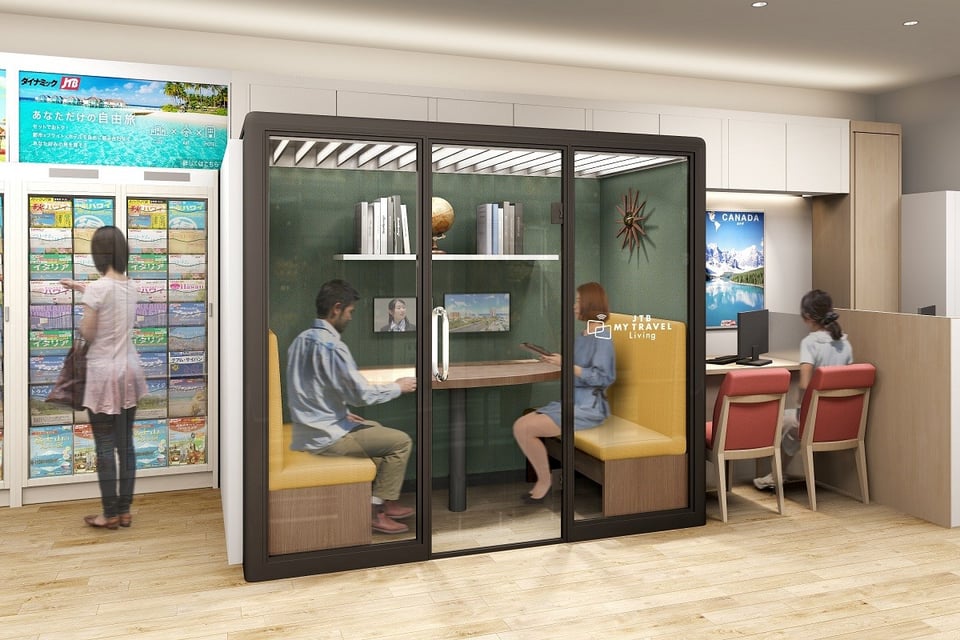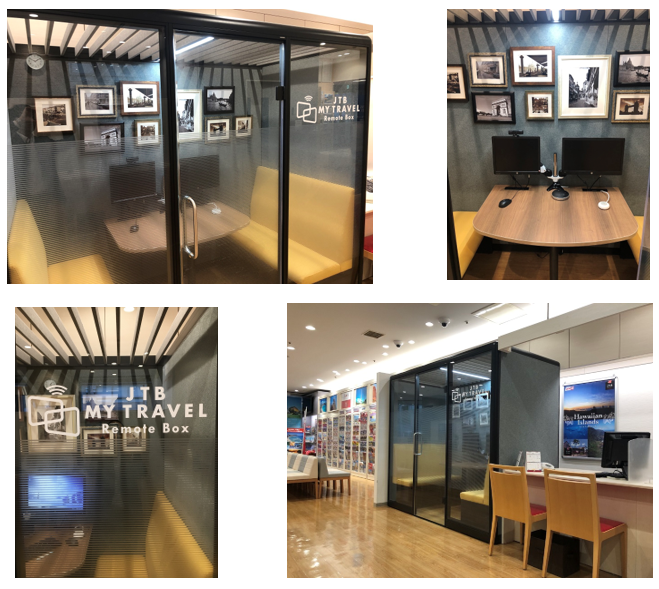 ■ Service Overview
FEATURE 1: An exclusive space to reduce waiting times
- New customer services using remote technology in shops to shorten the waiting times.
- The on-site staff in the shop will control the use of the remote service mainly in peak times.
- JTB Call Center staff provide services remotely through a video screen.
- It is an exclusive space like a large telephone booth. Travel consultations are to be held remotely in the space with a sense of security and comfort for the customer.

FEATURE 2: Designed to receive remote services with no stress
Customers will receive the remote services using two monitors. One monitor shows the operator talking to the customers to see each other. The other monitor is controlled remotely by the operator to display media, such as brochures as well as images or videos from internet searches to pick up and share travel information with the customer. Both the operator and the customer can view the same screen from separate locations as if they are talking in the same place.

JTB has turned this MY TRAVEL into a series and is using this project to create "value that can be found only at JTB" to be served to individual customers, to the market, and to the society.
(Media Inquiries)
JTB Public Relations Office: 03-5796-5833