Many events will take place in May-June to kick start the hot summer!
JTB Okinawa launches "Okinawa E-motion" ~ A new tourism campaign produced by JTB in Okinawa ~
News Release Products Services
 JTB Okinawa Co., Ltd. (Headquarters: Naha City, Okinawa; President & CEO: Kenji Sugimoto; hereinafter "JTB Okinawa"), WONDER RYUKYU Co., Ltd. (Headquarters: Ginowan, Okinawa; President: Kosuke Tsuruta; hereinafter "WONDER RYUKYU") and ASOBISYSTEM Co., Ltd. (Headquarters: Shibuya Ward, Tokyo; President and CEO: Yusuke Nakagawa; hereinafter, ASOBISYSTEM) created a new tourism campaign, Okinawa E-motion*1, to promote Okinawa tourism during the off season in May and June.

 Tourism to Okinawa tend to be concentrated during the spring break and the summer. There is a need to equalize the tourism by stimulating travel demand during the off season. The period from the end of Golden Week in early May until the rainy season in June is the off season which tourists avoid. However, this period has very few long rainy periods and is not too hot. It is not well known that this is actually the best season for tourism with plenty of bargain deals on trips. Therefore, we plan to stimulate travel demand by establishing this time of year as Event Month and the best season for Okinawa tourism. We will do this by consolidating various resort events, together with developing an "Okinawa E-motion" tourism promotion with the keyword and hashtag #FlyingSummer to do advance promotion for the beginning of the summer season in Japan.
 This is the first year and in the period from May 18 (Sat) to June 2 (Sun), we will concentrate resort events in the Okinawa E-motion campaign with the concept of "Food+Music+Art". For the opening event, "Magic Beach & Beach Bar Walk" (May 18_19) will combine magic and food festivals. This will be followed by "KPP CAMP" (May 25), a battle of the bands event*2 produced by Kyary Pamyu Pamyu, and "Bar Walk Naha" (May 25), a restaurant and bar crawl event across various spots in Naha. The main event is the "ASOBEACH!!!" outdoor music festival with various artists and DJs together with the popular "OKINAWA FOOD FLEA" food festival which will be held simultaneously (June 1_2) as the festive finale. In addition, we will set up "Art Spots" (May 18_June 2) which are spots where people can take great photos. Special limited time marine activities will be held, and other resort events one after another are planned. This will be a large-scale tourism campaign.
 With Okinawa E-motion, we are working with travel agencies, airlines, governments and businesses, both inside and outside Okinawa prefecture, to communicate a new charm of Okinawa. In doing this, we are going beyond not only JTB but also beyond the typical framework of travel agencies to establish a future approach for the entire Okinawa tourism movement.


・Campaign name: Okinawa E-motion
・Keyword and hashtag: #FlyingSummer2019
・Purpose: To create a tourism boom during the off season by concentrating resort events and appealing campaign as the earliest tourist event month of the summer in Japan.
・When: May 18 (Sat) to June 2 (Sun), 2019
・Event concept: Food+Music+Art
・Official website: https://www.okinawa-emotion.com/
・Official logo

・Official Design: Okinawa E-Motion will be colored with a vibrant pop perspective by Ms. Little Chico, an illustrator from Okinawa Prefecture.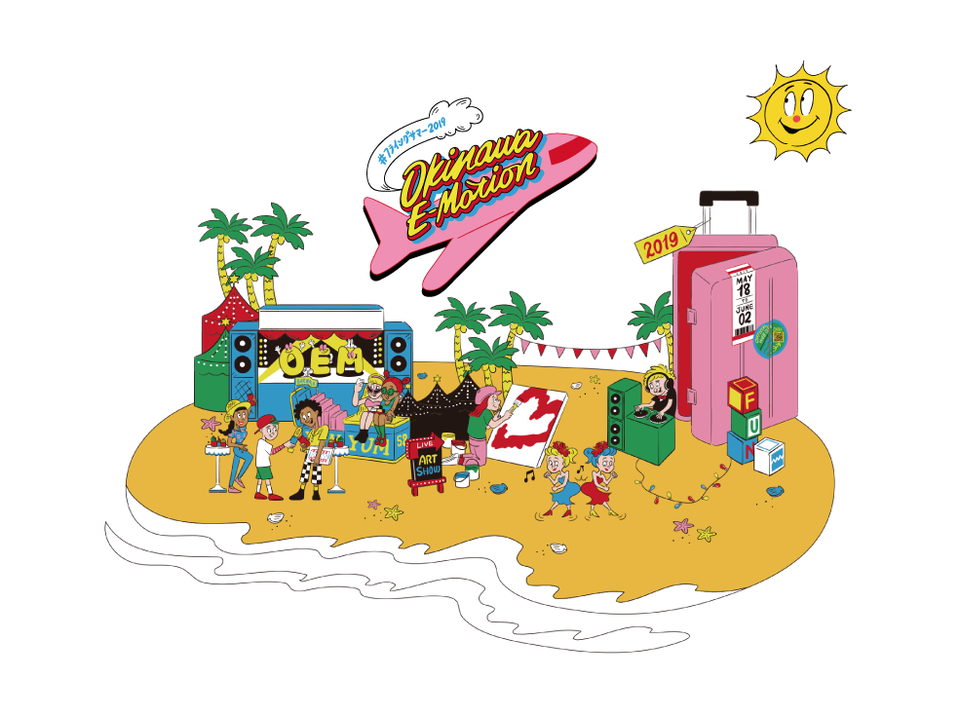 *1. "E-motion" is a coined word with many meanings: Emotion (excitement, passion), Entertainment (stage events, parties, hospitality), Motion (movement, action, upset, poise, gestures, signals).
*2. "Battle of the bands" means multiple musicians taking turns in a competition on one stage


●ASOBEACH!!! (June 1_2, 2019)
The long-running and popular ASOBEACH!!! open-air music festival will be the main event for the festive finale of Okinawa E-motion. Two jointly produced events, ASOBEACH!!! in music and OKINAWA FOOD FLEA in food, will be held in Naminoue Umisora Park in Naha. We have assembled events unique to Okinawa E-motion where tourists can experience the #FlyingSummer "early summer".
●OKINAWA FOOD FLEA (June 1_2, 2019)
This is a completely new style of food festival originating from Okinawa. It began in 2014 as a place where professionals in the food scene every day gathered to demonstrate their creativity. While enjoying the culinary delights of OKINAWA FOOD FLEA, tourists can enjoy the musical excitement of ASOBEACH!!!.

At Naminoue Umisora Park, which is the venue for ASOBEACH!!! and OKINAWA FOOD FLEA, Peach Aviation will hold an event where children can try on flight attendant and pilot uniforms and take pictures with flight attendants in a photo booth, Japan Transocean Air will have a "photogenic" photo booth, and airlines and travel agencies will set up travel corners. JTB is also planning to operate a new-sense four-wheel bicycle activity which will debut in Okinawa. We will create an unprecedented resort entertainment space.

●KPP CAMP (May 25, 2019)
KPP CAMP is a battle of the bands event hosted by Kyary Pamyu Pamyu, with the theme of "novel lineups". It was first held at the Hibiya Open Air Concert Hall last June. This will be the second time for "Ryukyu Nissan DAYZ Presents KPP CAMP". Look forward to the announcement at a later date of the artists who will appear with Kyary!
●Bar Walk Naha (May 25, 2019)
Bar Walk Naha is a popular food event which was held six times previously. The executive committee selected restaurants in Naha with the concept of "restaurants you've wanted to visit and others you've never heard of". Try the five restaurants in the Original Guide Map one after the other, and experience Naha's town culture while tasting new gourmet foods.
●Ryukyu Amazing Night (May 18_19 and June 1_2, 2019)
Night entertainment where you can enjoy the culture and subculture of Okinawa and Japan. For visitors from other countries or from inside and outside Okinawa, this is a new type of entertainment which is a fusion of Ryukyu (Eisaa dance, Lion Dance, Sanshin music, etc.) and Japan (taiko drums, Japanese folding fans, etc.). During the Okinawa E-motion period, you can enjoy it as a free outdoor event.
●MAGIC BEACH (May 18_19, 2019)

The opening event to commemorate Okinawa E-motion is MAGIC BEACH which will be held on May 18 (Sat) and May 19 (Sun). There will be magic shows by popular magician, MASA MAGIC, from Okinawa Prefecture.
●Beach Bar Walk (May 18_19, 2019)
Shops in the popular "Bar Walk Naha" drinking and walking food event will be open on the beach! To raise excitement for the opening of Okinawa E-Motion, hot dishes from popular restaurants in Naha will be featured. Enjoy magic and music while satisfying your tongue and stomach.
●Art Spot (May 18 _ June 2, 2019)
For a limited time, Instagrammable art spots will pop up throughout Okinawa prefecture! Feel free to enjoy yourself, visit unique art spots tied to Okinawa E-motion, and participate in events held there! We will help you take pictures of your travel memories.


<Event schedule (tentative)>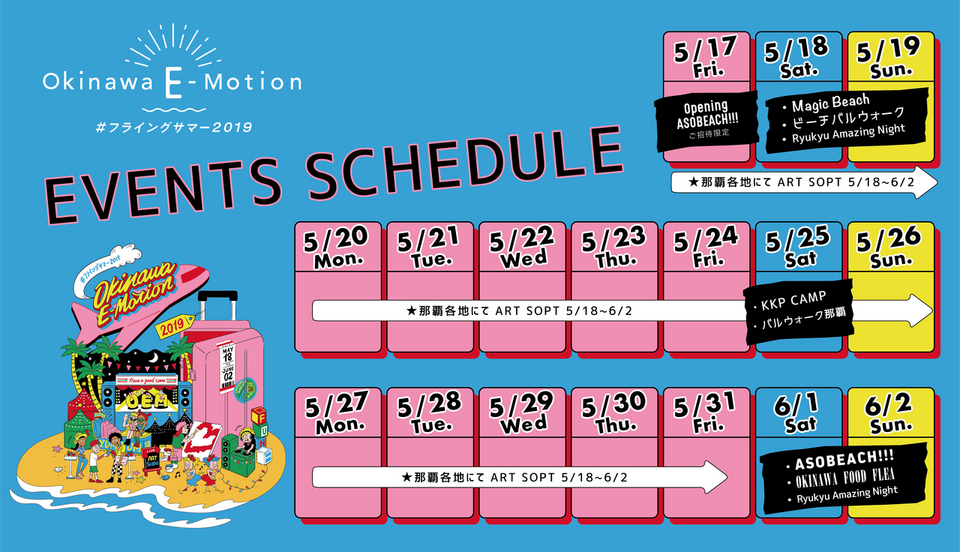 Check the official website for event information updates.
https://www.okinawa-emotion.com/
About JTB Okinawa
JTB Okinawa is a part of a JTB Group with approximately 29,000 employees worldwide. The head office of JTB Okinawa located in Okinawa, aiming to be a "glocal company" which means "global meets local". The company is striving to embody its vision of "continuing to expand the domain of relations creation business by providing value to customers with impressively comprehensive ability, expertise and brand power, and continuing to be indispensable in promoting tourism in Okinawa". Uniting all power of the JTB Group, JTB Okinawa create a platform of providing services with new value creation, towards further development of tourism in Okinawa.
About WONDER RYUKYU
WONDER RYUKYU is a creative agency based in Okinawa. Based on ideas which are not bound by conventional marketing frameworks, WONDER RYUKYU especially focuses on developing creatives and content which utilize the strengths of Okinawa. WONDER RYUKYU has won numerous advertising awards and garnered praise from companies inside and outside Okinawa prefecture. In addition to mass media, WONDER RYUKYU is also actively involved in web marketing and events, with the goal of promoting products, companies, and regions from the perspective of consumers.
(https://wonder-ryukyu.co.jp/)
About ASOBISYSTEM
ASOBISYSTEM is based on the concept of "Creating a culture rather than a boom. We need more fun in the present age." Based in Harajuku, ASOBISYSTEM handles management for artists, creators and models such as Kyary Pamyu Pamyu, Yasutaka Nakata, and Sebastian Masuda, production of various events such as music festivals and club events, media management, store management, and inbound business, etc., as well as culture production that is widely deployed in Japan and internationally.
<Press inquiries>
JTB Public Relations Office, TEL: 03-5796-5833
<General inquiries>
Okinawa E-motion: www.okinawa-emotion.com/contact/